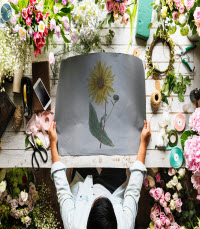 Seed Educational Resources
How the Division of Regulatory Services Seed Department protects consumers.
Know what you SOW! Read the tag attached to the bag! - Explanation of information on a seed label.
Sampling and Testing Seed Instructional Video View for free here
Intended to educate students, seed professionals, and consumers regarding the important implications of adequate sampling and testing of seed lots for information about seed quality. (13 min.).
The Association of Official Seed Analysts (AOSA) Available for free here
Understanding Seed Testing videos.
Seed Identification Kit
$50
Informational material and a collection of seed kinds designed to teach seed identification. Samples are identified and packaged in small poly bags, and presented in a 3-ring binder for easy study and storage. (See the
order form
for seed kinds that are included in the kit.)
Individual Sample Packets
$2.50 per species
Single samples of individual species.
order form
Printable images of various seed kinds, identification quizzes and scientific classification information from Ohio State University.
Overview and examples of principles of seed tag evaluation.